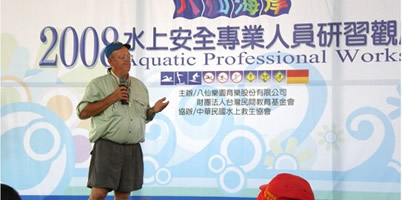 Charlotte "Char" Hunsucker
Char grew up teaching swim programs in Clearwater, Florida. As a child, Char helped her mother, who was an instructor trainer for the American Red Cross, teach learn to swim programs. Later she became involved in competitive swimming in high school and college swim teams even competes now and then in Maters swimming.
She has worked as a lifeguard in Florida for over 15 years. Char has been an instructor trainer for the Red Cross in all aquatic courses and has between 10-20,000 volunteer hours during her thirty year association with the Red Cross. While she has been instrumental in developing many of the innovative programs for which NASCO is known, she is perhaps best known for her unique teaching style and for her ability to make aquatic education a fun event. Char is also a Registered Nurse in the states of Florida and Texas.